What would you do with only 48 hours to see the best of this Turkish city? Want to know where  to eat, stay and play on the Bosphorous.  Read TheLuxeTraveller's guide to Istanbul here in The Sunday Telegraph's Escape travel section:  http://www.heraldsun.com.au/travel/world/eat-drink-play-and-stay-in-the-turkish-capital/story-fnjjvcm1-1227374579423
Here is the story reproduced below as it appeared nationally in News Ltd papers across Australia  with a few extra contact details at the end.
Istanbul has a split personality – half eastern, half western, half Muslim and half party town, it's a heady mix of traditional and modern, cutting-edge and conservative. It straddles Asia and Europe and is the most exciting city on the planet right now and poised to take over Paris' position as the second most visited city in Europe. The more than 11 million tourists who poured into Istanbul last year making it the fasted growing tourist city in the world, can't be wrong.
DAY 1
11am Arrive at Ataturk Airport on MAS MH5881.Take a taxi to historic Beyoglu.
12noon Check in to the opulent Pera Palace, the original 1890s hotel which recently had a complete makeover. The Grand Pera Palas was known as the hotel of choice for Orient-Express passengers and once counted Agatha Christie, Ernest Hemingway and Alfred Hitchcock as guests.
12.30 Sip complimentary mint tea on your balcony overlooking the Golden Horn and nibble on a plate of macarons and Turkish delight.
1pm Take a tour of the room where Agatha used to stay and the Ataturk museum. The hotel manager here is also the museum manager. The hotel is famous for its high tea served in the Salon from 3-6pm but you won't be hanging around for that. Instead….
2pm Head out the revolving door and walk slowly up through Beyoglu's narrow streets till you reach Istanbul's most popular historic pedestrian shopping street, Istiklal Caddesi, or Independence Avenue. Here on this pretty, wide, Parisian-style three kilometre long pedestrian avenue you'll find bars, cafes, restaurants, shops, galleries and markets – from the hip trendy and expensive, to everyday and affordable. Order a refreshing pomegranate juice, squeezed in front of you, and maybe a borek from one of numerous side street cafes. Follow the throngs towards Taksim Square – the Leicester Square of Istanbul.
3pm Walk down Istiklal in the other direction towards Galata Tower in the heart of the cobbled Galata district. A stone spire built in 1348 it is an Istanbul landmark and has amazing views over the Golden Horn. Buyuk Hendek Caddesi (9am-8pm; 19TL).
4.30pm Take a tram over Galata Bridge to Eminonu from where you take a short cruise on the Bosphorus (around 1.5 hrs – 2 hours). A boat cruise is a lovely way to see both the European and Asian coasts for as little as 10 or 12 TL.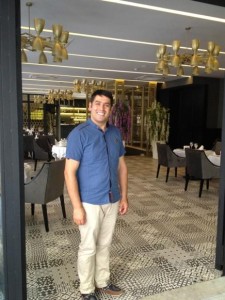 7pm Dine at Necati Yilmaz' divine new restaurant Deraliye in Sultanhamet to try Ottoman cuisine, the food served to the sultans; Divanyalou Caddesi 10, Sultanhamet; +90-212 520 7778, www.deraliyerestaurant.com.  Yilmaz was responsible for digging up the recipes from the Topkapi Palace archives that set the menu for the nearby Matbah restaurant that also serves Ottoman palace cuisine. Linger over lunch, savouring each morsel of palace delicacies such as Lamb served on a bed of Eggplant and Grilled Circassian cheese. These historical dishes are gleaned from palace records and antique cookbooks.
9pm Take a taxi back to your room at the Pera Palace. Time to change.
10 pm Head across the road from Pera Palace to Bar Mikla, the Rooftop Bar and restaurant on the top floor of the nearby Marmara to see the spectacular Istanbul sunset. With 360 views from the roof, you'll feel part of the skyline. Many of Istanbul's best bars are on the Bosphorus waterfront or on its soaring rooftops. Both Pera Palace and Marmara are in the heart of Beyoglu, the city's nightlife hub, where weekend crowds drink cocktails and party late into the night.
12pm Party till midnight then head back to your soft bed at Pera Palace, or party till 3am like the Istanbullu.
DAY 2
8 a.m.
 Skip breakfast and have a coffee and macarons at Pera Patisserie on the ground floor of the hotel – a pink confection of pastel and sugar sweets.
9am Start early. Catch a tram to Istanbul's Old City, and get off at Sultanahmet station in the heart of the old quarter.
10am Visit the Blue Mosque, a 17th-century structure with amazing blue tiles and glasswork (closed during five daily prayer times; free). Then head opposite to try to beat the queues at the Hagia Sophia, ayasofyamuzesi.gov.tr, 9am-7pm; 30TL. Once an imperial mosque it is now a museum. Note: a Museum Card 85 TL will get you three days fast track entry to these and other major sites.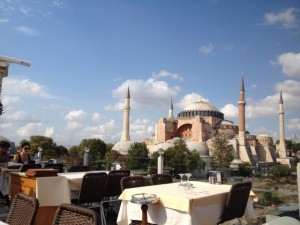 11am get a bird's eye view of the Blue Mosque and Hagia Sophia from the rooftop terrace of Seven Hills Fish Restaurant, a popular spot day and night for locals as it looks out over the whole of the Sultanhamet area. Atop a nondescript hotel across from the Four Seasons, this is an insider's secret: a rooftop terrace with an unobstructed panorama of the Blue Mosque, the Hagia Sofia, and the Sea of Marmara. 8A Tevkifhane Sokak, 90-212-516-9497, www.sevenhillshotel.com
12 noon By now you're ravished, so head just around the corner to Mahbat, located right beside the famous Hagia Sophia basilica in the heart of old Istanbul. Take lunch in their sunny outdoor courtyard, a respite from all the mayhem outside. Listen to the calls from the mosque as you feast like a sultan on almond soup, melon stuffed with almonds pistachios, rosewater and mincemeat. Kadir Yilmaz is the chef here. Necati Yilmaz was the former manager here until he left recently to establish Deraliye. Eating at both if you have time will be the highlight of your stay.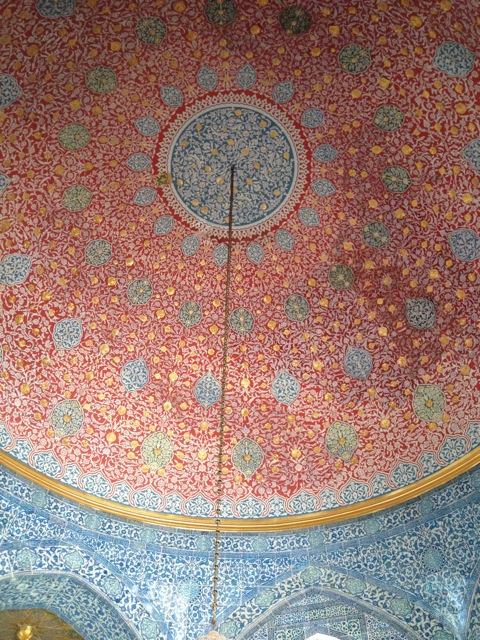 2pm Now the crowds have evaporated, duck into the Topkapi Palace (topkapisarayi.gov.tr; 9am-6.45pm, closed Tuesdays; 15TL), to see its jawdropping collections. Avoid the queues; get your ticket from one of the ATM machines nearby. Sultan Mehmet II built this sprawling complex in the 15th century. Wander through room after room looking at elaborate Byzantine and Ottoman jewellery, daggers and other treasures.
3pm Grab a Turkish icecream made with gum arabic from one of the red Konak mobile vans in the square. The ice cream vendors dressed in traditional outfits sell this gluey, sticky rich ice cream from Kahramanmaraş (a city in Eastern Turkey). Every cone comes with a show. Then head to the nearby Basilica Cistern (only steps from Deraliye) to see the oft-overlooked amazing underground maze of columns – locals call it the "Sunken Palace".
4pm Walk to the Grand Bazaar, Istanbul's famed covered market, where you can find gold and silver jewellery, brass tea pots and inlaid ware.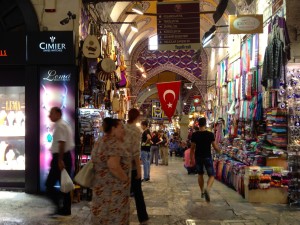 Get lost in the warrens of this 15th-century treasure trove. Haggle over the jewellery and buy a Byzantine ring.
6pm From there it's just a short walk to the Spice Bazaar. Buy some Turkish sweets – made with cardamom, rosewater and pistachio.
6.30pm Have a coffee here at the famous Mehmet Effendi Kahvesi or a Turkish snack such as kofte or kebabs at Hamdi Kofte near the Spice Bazaar.
7pm Relax after the hectic pace of the bazaar with a hammam at the luxurious spa at The Ayasofya Hurrem Sultan Hamam or the Cemberlitias Hamami. Both these historical Turkish bath houses are in the Sultanhamet district, where you'll be steamed, soaped, pummeled and rubbed with an olive pumice stone till your skin shines. Both open till 10pm, 1500TL.
9pm Head to your new hotel, the new Shangri La on the Bosphorus. A reconverted old tobacco storehouse, it has Istanbul's largest hotel rooms. At 60sqm they have views over the Bosphorus and invisible waterproof TVs embedded in the bathroom mirrors.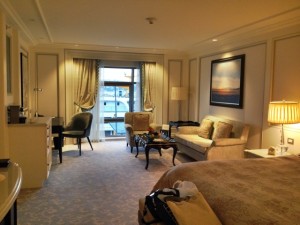 10pm Still have legs? Head out of the hotel and turn left. Take a moonlight walk along the Bosphorus waterfront to Ortakoy near the Bosphorus Bridge. Buy roasted chestnuts from the pop up stall vendors along the way. Consider walking across the bridge from Europe to Asia.
11pm Feeling like listening to music or dancing? Head to Reina, the glamorous heart of istanbul's modern nightlife, this huge open air bar club restaurant complex in Ortakoy right near the Bosphorus Bridge, pumps house music out over the Bosphorus from 11 nightly. Taking advantage of its stunning location, Istanbul's nightlife certainly capitalises on its harbour views and rooftops.
DAY 3
8 am Breakfast in the Shangri-La's sprawling waterfront breakfast room overlooking the Kadikoy ferry pier. The numerous breakfast stations serve everything from pide to clotted cream and pistachio pancakes with figs.
With sweeping views of the Bosphorus and the Asian side just across the water, watch people arrive by ferry from Kadikoy while you indulge in one of the largest breakfast buffets you're likely to see anywhere.
9am Walk along the Bosphorus waterfront to Dolmabahce Palace open from 9-4pm; 30TL; http://www.millisaraylar.gov.tr Istanbul's Versailles, it was the administrative centre of the late Ottoman Empire and home to the last of its Sultans. if you have time, do a spot of shopping in the upmarket shopping district, Nisantasi before leaving Istanbul.
11am Head to the airport and your 13.15pm Malaysian Airlines flight.
GETTING THERE
Malaysian Airlines flies to Istanbul via Kuala Lumpur daily. www.malaysiaairlines.com Call MAS reservations on 13 26 27.
GETTING AROUND
Beyond Travel organizes custom tours of Istanbul. Ask for a foodies tour with Semih Kazak (it's not a regular offering but my request to see Foodies Istanbul was met with a big smile as he dove with relish into his assignment of showing me the best food in Istanbul through the eyes of a local). www.beyondtravel.com.au 1300 363 554
STAY
The Pera Palace, Mesrutiyet Caddesi 52, Tepebasi; perapalas.com +90 212 377 4000
Shangri La Istanbul, Hayrettin İskelesi Sk, Beşiktaş, +90 212 275 8888
Witt Istanbul Suites: Kılıçali Paşa Mh., Defterdar Yokuşu 26, Cihangir +90 212 293 1500. This boutique hotel in groovy Cihangar is the place to stay if you like design hotels.
PARTY
Mikla: Mesrutiyet Caddesi, Beyoglu, themarmarahotels.com
Reina: Muallim Naci Caddesi 44, Ortaköy, www.reina.com.tr