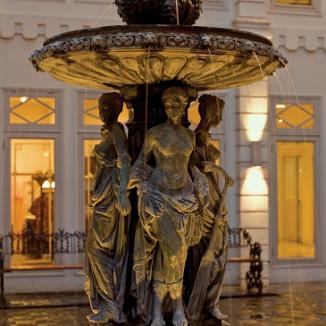 Jogjyakarta in Central Java is sadly overlooked by many travellers but this property is worth visiting and a must choice if you're wanting to visit Borobodur,the spectacular Buddhist temple complex just outside Jogjya, at sunrise.
GALLERY M PHOENIX
This Raffle-esque property has to be the first choice of hotel in Jogjakarta. Ridiculously low rates for a property steeped in history, character and traditions with great food and wine to boot.
Phoenix Hotel Yogyakarta, a member of the MGallery Collection, is a colonial landmark dating back to 1918. With 144 elegant rooms and suites, each boasting a balcony and a fusion of Asian and European decor, the hotel features grand entry and sitting rooms and beautiful colonial buildings each framed around open courtyards with pools and restaurants.
This prestigious hotel is probably as central to Jogjya as Raffles is to Singapore. Built in 1918, it as commissioned by a rich Chinese merchant, Kwik Djoen Eng, for his private residence. During the Great Depression, it became a resident hotel until the Japanese occupation in 1942. After the war it was the official residence of the Chinese consulate. It became a hotel again in 1951.
144 Rooms
Eating there:
You must have the Kopi Luwak, a bit of a tradition here. It is served with pomp and ceremony just like the amazing high teas served each afternoon.
In the morning before breakfast local Jogjya women being their herbal concoctions and serve them in the courtyard. They are to cure all range of ailments so try them for free.
You can take an In House Tour – also scheduled each afternoon. The Museum is in the main part of the original bldg that has stood for a century and features antiquities, paintings, artworks and old photographs.
This is the kind of hotel you want to hang around in. and it's actually enjoyable to come back here at the end of a long day, sit down in the courtyard with its soothign fountain and try on eof the hotel's legendary gin slings. The open public spaces with lounges, coffee nooks, great cakes and lots of local specialities to try, paintings to look at, books to read and objects to admire make it a treasure. You won't want to rush up to your room. It's more like a gentleman's club or olde-worlde hotel in the tradition of Raffles and the Strand. Highly recommended.
http://www.mgallery.com/gb/hotel-5451-the-phoenix-hotel-yogyakarta-mgallery-collection/index.shtml