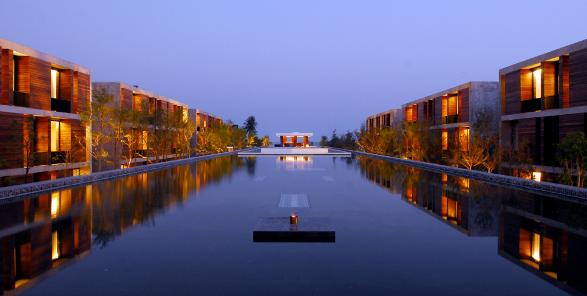 I love designer hotels and always admired this property ever since I did a site inspection when it first opened under the Alila umbrella back in 2007. The owners have since taken it back and it is now part of Accor's Sofitel hotel brand.
It's a two and a half hour drive from Bangkok by private car (you can hire one at the airport for around $100. (Wouldn't you love to be able to do that at home. It costs nearly that much to get a taxi from Sydney airport to my house but that's what you get I suppose for living in the world's third most expensive city)
This property appears in the book Design Hotels. And when you get there you'll see why. Duangrit Bunnag is my favourite Thai architect.
The hotel's minimalist design features bold shapes and clean lines with aged woods, limestone, marble, rocks, water and clever use of space and voids. There are lots of pathways and a clever use of lighting and lighting effects at night but you always feel as if you have the place to yourself.
You arrive via a long beachside lane that seems to ramble on forever, at a pair of security gates. Enter through the gates and you see the Lobby –like a Mesopotamian temple before you. Walk up the steep scaled steps to a marble and timber cantilevered open air foyer that overlooks a huge refection pool that floats before you as far as the eye can see. At the other end lies another pavilion – the restaurant pavilion – and below, a Chill Pool. Everything here is a revelation but unless you're into modern architecture and design you won't appreciate it. There isn't anything particularly Thai about this property; it's a celebration of modern architecture – of spaces and reflections and contemplation – it's all about appreciating the beauty of what is laid out before you – a juxtaposition of solid architectural form, concrete black marble, granite stone walls, and fluoro-lighting within a landscape of gardens, pools and framed by the ocean.
This is a destination hotel. There isn't much around it. It's quite isolated from the rest of Cha Am so all there is to do here is relax, chill out (at the chill pool) have a spa treatment or two, read a good book, maybe take a walk along the beach or a bike ride into the Fisherman's village to see the colourful fishing boats or eat great seafood on the waterfront (ride a bike there) and then retire back to your Mesopotamian temple.
The remote location makes it the perfect retreat for those seeking peace and tranquility away from city life. There isn't much to do except lie around and admire your surroundings, though there's a complimentary shuttle bus service to Hua Hin for anyone wanting nightlife and shopping.
You could venture out to pay a visit to the nearby summer palace of King Rama VI in Petchaburi or stay in and have a treatment at the spa or read a magazine in the library. It's not recommended to swim in the sea when there are jellyfish, unfortunately.
It's a contemplative, slow-down, kind of place for people who don't care what's on the activities calendar.
Vast corridors run between walls of concrete or caged stones. The sheer scale of both the public spaces and the rooms is impressive.
The rooms are minimalist and spacious, with high ceilings and giant overhead rainshowers in a wet room setting. An Apple TV plays music synchronized to visual effects.
The breakfast is one of the best and most comprehensive you'll get anywhere, served in a room that looks out to the gardens and pool. In the evening, have a cocktail at the Red Bar where the lighting changes colour continuously changing the colour of the Chill Pool. Or just sit in the rooftop Bar Clouds Loft at night and gaze out to the beach or watch the flame pyrotechnics across the reflection pool…… Stunning!
In the evening try the al fresco Asian-Western fusion cuisine at Motion, or sip on a cocktail in Clouds Loft, the resort's rooftop lounge.
Dine on signature dishes such as Pancetta wrapped scallops with wasabi potato mash Slow braised veal cheek with pumpkin ginger chiffonade. Or try my favourite, the betel leaf wraps.
The resort's rooms and stand-alone beach villas are luxurious in a stark minimal way with lots of stone and concrete in the walls floors and bathrooms. The Apple TV and synchronized music with visual effects is a nice touch.
The service that all the staff offer is exceptional, headed by Joe the concierge and a management team led by Nigel Tovey. The service level and genuine friendliness of the staff really sets this hotel apart– even in Thailand, the land of service and smiles.