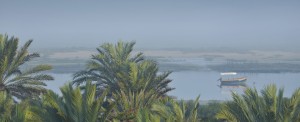 Not many travellers to Morocco make it past Marrakech Fez and Casablanca, but on the western coast of Morocco, between Essaouria and Casablanca, lies a small quiet fishing village and seaside resort town. Just a 2.5-hour drive from Marrakech and 2 hours from Casablanca, Oualidia is the ideal place to unwind from the whirling pace of Marrakech and Fes.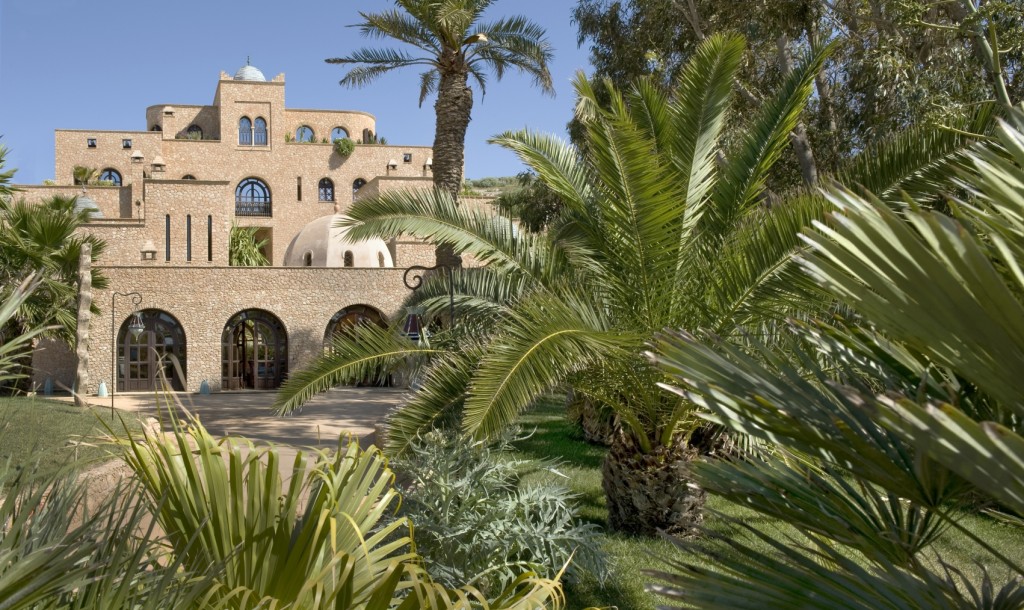 This fishing village turned coastal holiday spot is where Marrakechis go when the tourist season hits, and it's where you'll find La Sultana, the 12-suite Atlantic-coast sister hotel to the stellar La Sultana Marrakech and Oualidia's newest and most luxury hotel by far.
The location of this luxe resort is quite unique. It sits at the edge of Oualidia's famous Atlantic Ocean-fed lagoon that's sheltered from the Atlantic by red-sand cliffs. This part of the coast is famous for oyster farms, the flocks of pink flamingos and the golden sandflats that appear and vanish with the tides.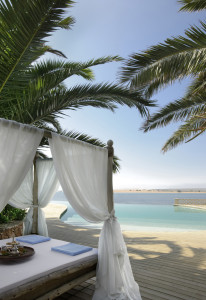 By contrast to the rest of Morocco's red and ochre townships, Oualidia is just white and blue houses. There is very little development here; it's more a sleepy seaside town for Moroccans and a few off the grid luxe travellers. King Mohammed V holidayed here in the 50s; his ruined still-guarded palace sits on the waterfront.
His grandson, the current king Mohammed VI, has banned construction along the foreshore, so it's likely to stay preserved. Oualidia has been described as Morocco's St Tropez but it's way more laid back and lesser known than that. If anything it reminds me of the seaside resort town of Hua Hin in Thailand that is largely overlooked by tourists but has always been a getaway for the royal aristocracy including the Thai King who has a summer palace there.
My driver turns off the main road, dotted as it is with modern holiday villas and homes, some with quite amazing architecture and heads down the hill to what is essentially a dirt track at the edge of town. The resort sits facing a salt-water lagoon and beach where ocean and coast merge, a site of great ecological importance.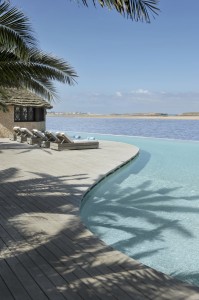 La Sultana is located right at the edge of the lagoon of Oualidia. The Moorish fort style property is set in landscaped gardens full of palms and bougainvillea with a 40m infinity pool overlooking the lagoon.
A  member of Small Luxury Hotels of the World it is a perfect nature & ocean gateway to relax and rest and the only luxury hotel in town apart from now-crumbling kasbah, built by the village's namesake, Sultan El Oualid, in the 17th century. Below it is the ruin of Mohammed V's summer palace.
I take a boat trip along the river to see the oyster farms. It's very quiet…. just the sound of birds amongst the reeds: white egrets,  spoonbills, curlews and storks. The magic of the lagoon and the tides are constantly changing and flocks of seagulls flow with that movement. The lagoon forms a natural wave pool so you can also go surfing here.
La Sultana Oualidia feels a bit like staying in a Tuscan countryside villa except that you've also got the water and water sports, seafood and the spa. But it has that castello-fortress feel. The "rooms" are actually suites – all totally private and enclosed with their own private enclosed terraces with seawater Jacuzzis (how nice and natural is that). One is a tree house in the grounds.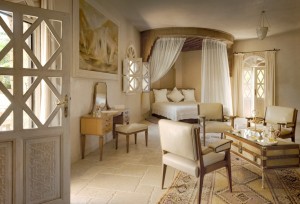 The style here is stone, tadelakt, antique furnishings and original artworks, tadelakt plaster walls, zellig tiles and wooden flooring. La Sultana doesn't skimp on the luxuries. There's a full-service spa, with a hammam complete with an amazing indoor heated blue tiled pool.
This luxury hotel has its own private beach and an outdoor ionized infinity pool (40m long) surrounded by five seawater jacuzzis. This and the stunning columned interior pool and spa area are major pluses.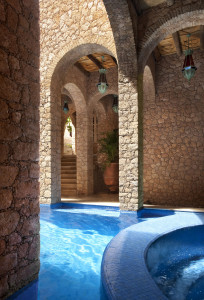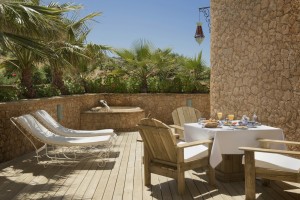 Largely invisible, ensconced in their own private compounds (hardly rooms; more private turreted suites) guests move between the infinity pool, deck chairs on the red sand and the hammam spa.
The pool area overlooks the lagoon and the red ochre sand beach. Small fishing boats sail along catching the fish oysters and crab this town is famous for.
The restaurant serves up amazingly fresh Atlantic seafood. Specialities include lobster, oysters, or mudcrab kept live and fresh in huge stone subterranean water tanks under the restaurant. Located near one of Morocco's best oyster beds, La Sultana specialises in these as well.  Eat in the sunken cellar-like dining room, or privately on a waterside deck facing the lagoon.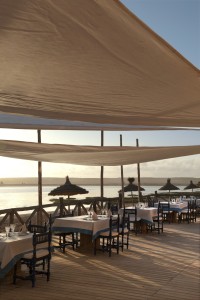 Eating out on the deck under white tarpaulins overlooking the lagoon is wonderful. Sitting under the white sails you can watch the fishermen in their boats drift past on the river casting nets to catc,h fish. I enjoyed lying amidst the sandstone walls and soft ochre coloured sands looking out over the sand flats as flocks of seagulls swept through, my only thought – the spanner crab I'd had for lunch.
The resort organises special dinners or breakfasts for couples on the end of the jetty You can also book the Berber tent for dinner in the evening and staff will light a fire and lay out candles for a romantic dinner on the beach.
EXTRA INFO: 
La Sultana also has its own private beach, next to another pool.  Take a flamingo-spotting boat trip on the lagoon, surfing lessons, or go fishing or walking.
Other facilities: Spa – Gym – Lounge Bar – Library – Billards – Cooking courses airport transfer service – Library to chill out with books – Laundry and Concierge services – parking.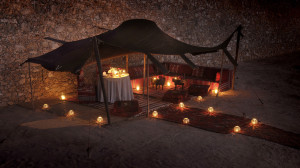 Berber Tent candlelit dinner
ACTIVITIES: fishing, surfing, horseriding on the beach, Kayaking, Boat trips to see oyster farms or birdwatching, evening cooking classes where you ccook at 5pm and eat at 7.30 or the hotel can arrange a boat to the other side of the lagoon for a private picnic.
La Sultana Oualidia, Parc a Huitres No3, Oualidia, lasultanahotels.com/oualidia +212 5 24 38 80 08
+ REASON TO GO:
The lobster and mudcrabs here are to die for. The Spanner Crab salad and Langouste (crayfish) are among the best I've had anywhere with the exception of the West Australian outback (where they were plucked direct from the mangrove mudflats by my indigenous guide).
– NOT FOR YOU IF:
You're not really on a beach – more an ochre coloured sand lagoon. Probably won't compare for those who like a seaside spot with blue water, waves and a sea breeze…this is more your desert beach or a sheltered lagoon for beginner surfers.
AWARDS
Gold List 2015, Seven Hotels with Standout Spas in the World – Conde Nast Traveler
Gold Standard Hotels 2014, best Beach Hotel by Conde Nast Traveller UK
Winner Travelers' choice 2015 for Luxury by TripAdvisor
Luxury tour company By Prior Arrangement can arrange private chauffeur-driven tours to Oualidia and some of the other highlights of this exotic North African country on one of their customised individual tours tailor made to your requirements.