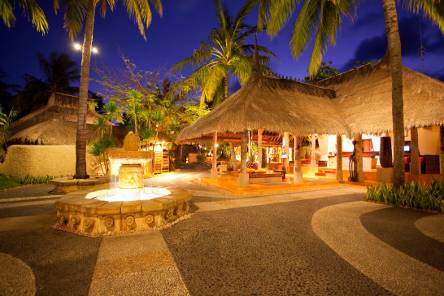 Lombok doesn't have the glamour and ritz of Bali, but it does have better beaches and fewer tourists. For now at least, Lombok remains a peaceful haven!
Located on the southern shore of Lombok island, NOVOTEL LOMBOK resort is very spread out and overlooks the beautiful white sand and turquoise bay of Kuta beach.
No, not the Kuta beach on Bali, they are a world apart. It may as well be a private beach as there are no other resorts around – as I said, for now at least. Only 19kms from Bandara International Lombok Airport, the resort features traditional rustic Sasak style architecture. It has 102 rooms and suites but you're not getting the full experience unless you stay in one of the traditional Sasak style thatched huts or private pool villas set amongst tropical lush gardens.
What's to do here? Swim, sailboard, kayak, pedal boat, snorkel or go scuba diving. Visit nearby beautiful Tanjung Aan Beach – most days you'll probably have it to yourself. Or step into a traditional Sasak village to see how they live. See the local women cooking and weaving cloth, buy a few sarongs and learn about Sasak traditions.
Back at the resort, take a Sasak style massage at the Spa. This is more a four than a five star resort, but the beach and pool villas are highly recommended. Slightly reminiscent of Vatulele with its stuccoed walls and rustic thatched huts/villas with stucco-ed mud brick walls (for Americans, that's Santa Fe style). Expect the usual standards from the Novotel.
NEARBY: Gili Islands (great surfing), Komodo island (yes, the home of the Komodo dragon).
See the virtual tour here: http://www.novotellombok.com