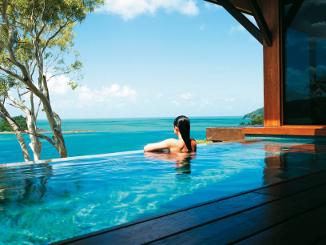 HOTEL REVIEW
Australia's qualia resort was judged the Best Resort in The World by readers in the Conde Nast Traveler Readers' Choice Awards last year. A star on the luxury resort scene, qualia is a truly Australian resort on the Great Barrier Reef owned by the Oatley family of international yachting and wine fame.
qualia (pronounced kwah-lee-ah and yes it's with a lower case q) means a collection of deeper sensory experiences. qualia the resort is a private world of sensory perfection on Hamilton Island, and the Oatley family's world-class, boutique luxury resort.
They've got a wine label – Wild Oats – judged the best in the world, a yacht, by the same name, which has won the Sydney to Hobart Yacht Race six times, and they've also got a world class resort that has won just about every international accolade possible.
As vignerons, their wines have been judged the best in the world – 25 years ago the Oatley's Rosemount Chardonnay put Australia on the international wine map and, more recently they did it again when their Wild Oats label Shiraz Voigner took out gold at the International Wine and Spirit Competition in London.
Having won international wine awards, and sold Rosemount to Southcorp for a squillion, the Oatleys bought Hamilton Island and set about creating a world class luxury resort on its northernmost tip, something that would get the world talking –again – about that Oatley Midas touch.
qualia has definitely succeeded in its aim of raising the bar in luxury resort accommodation.
Perched on high in my open air pavilion I'm looking out at the floor to ceiling 180 degree uninterrupted views over the surrounding hillside panorama of eucalypts and bushrocks, framing the yachts and islands of the Whitsundays.
From here it's easy to see this resort was conceived by a yachty. And not just any yachty – the owner of Wild Oats 11. Only a lover of the sea could envision such an outlook, with the sails of passing yachts as white specks on an otherwise blue and turquoise horizon, fringed by the lush green of Whitsunday and Henning Islands.
And, wouldn't you know it – the pavilions are called Windward and Leeward (one has private infinity plunge pools, the other outdoor showers).
Every pool in the resort – from the 14 metre pool in the Long Pavilion, to the Main Pool at Pebbly Beach, or the individual pavilions – is an horizon or infinity pool, with the pool edge blurring into the wild blue yonder of the open sea.
At qualia, you don't get just a room; here they're virtual one-bedroom houses four times the sizes of the average hotel room.
I was intrigued to learn that the Oatley's themselves came up with the design for the Windward pavilions that float over the landscape like yachts bobbing on the water.
Apparently they couldn't agree with the architect on the pavilion design – each had their own ideas – so they compromised and built some of each. I know which I prefer – the long open pavilion design with wall to wall views.
The Oatleys don't only make damn good wine, and sail boats faster than anyone, they also have innate design sensibilities. Talk about the Midas touch…everything this family touches seems to lead to gold or an award of some kind.
qualia is uniquely Australian in feel, from the spectacular hardwood timbers utilised in its construction, to the rock walls, granite boulders and huge bushrocks that dot the landscape. Grey granite from Bowen, river rocks and brown timber – the view is all Australian.
What is so innately satisfying about the resort is that it doesn't try to be a quasi-Asian tropical palm tree and sand paradise or even a marble and glass hotel tower. Instead, qualia proudly announces its Australian-ness, starting with the gums.
This is style and quality without any airs and graces – true Australian casual – exactly what we do best.
Unlike the rest of Hamilton Island, from which it's a world apart, this private gated enclave is all about relaxation and feeding the senses – whether it's the intense relaxation that comes from doing nothing except gazing out at sea sky and earth, or from the deluxe spa treatments  meditation or yoga sessions at the Spa.
There's no partying here; in fact, you will barely see a soul except when dining in the aptly named Long Pavilion, a spectacular 40 metre long pavilion. Everything relaxes – from the warm breezes that float across the hilltop, to the warmth and solace of the local hardwoods that surround you, and the silence, save the lapping of Coral Sea water on rocks and the rustling of gum leaves.
With all this relaxation, privacy and exclusivity, the closest you'll get to excitement is zipping around 30 hectares in your own personal electric buggy. There's a certain sense of freedom that comes from running yourself around and they certainly come in handy because the resort is hilly, so walking is not an option. Just watch out for cliff edges driving home after dinner.
Food as a sensory and visual experience is also central to the qualia experience – and the resort's chef, Alastair Waddell, dishes up Queensland-style modern Australian edible art creations, using fresh Australian produce, three times a day. You'd expect, with vignerons as owners, to find a pretty good wine cellar, and you'd be right – rare Granges, Australian labels you've never heard of, along with plenty of vintage French Louis Roederer Cristal champagne.
In terms of Australian resort experiences, this is the best there is. The resort appears regularly on international award and readers lists, appealing to overseas guests because it's authentically so Australian, and Australians because it's so unpretentious. The only question is…can you afford it??
Australia's answer to world class luxury, this is the kind of place that makes you curl your toes up with the deliciousness of it all.
FACT FILE
Pavilions with infinity plunge pools are $1600 per night or $1400 for those with outside showers, but note that this tariff is per pavilion, not per person, and includes all meals, non-alcoholic beverages, transfers and your own electric buggy.
The resort is gated and open to guests only.
Jetstar and Virgin fly to Hamilton Island where guests are picked up by the resort.
Be sure to take a signature hot stone massage, Bularri Yarrul, with 300 million year-old stones collected from Aboriginal lands.