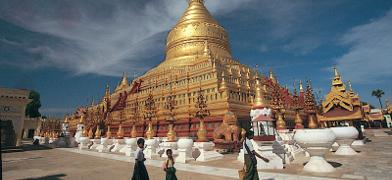 What better way to see remote Myanmar than on a luxury river expedition.
The scenery on this cruise is spectacular and we are welcomed with astonishment by the many remote communities through which we passed. Pandaw's 20 day cruise of the Upper Irrawaddy and Upper Chindwin takes us all the way up river to Homalin, over 600 miles from the Chindwin's confluence with the Irrawaddy, then we return downstream all the way to the ancient city of Pagan just below the confluence. Then we continued a further 700 miles up the Irrawaddy past Mandalay to the great 2nd Defile, just short of the out of bounds city of Bhamo. This is the most northerly navigable point on the Irrawaddy and the gateway to China.
Twenty nights on a river cruise may seem a long time, but the majority of passengers on these expeditions are regulars, and happy to spend so long in the convivial atmosphere onboard a Pandaw ship where no two days are the same. With varied scenery and diverse cultural sites, this expedition is the most popular of all Pandaw cruises and as there is only one a year it tends to book out quite early.
This expedition takes place during the Southeast Asia monsoon season, the only time of year water levels are high enough to attempt these remote rivers. It may rain but not continuously. River banks can be muddy and slippery and have to be hacked out at every stop along the river. This is a real expedition and the itinerary is subject to sudden changes due to water levels or other local conditions.