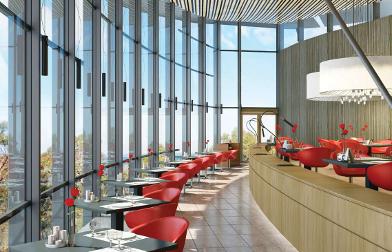 Tasmania has a world-class coastal sanctuary, says editor Karen Halabi.
The style-isle's brightest jewel, Saffire is a rejuvenating retreat on Tasmania's east coast, on the Freycinet Peninsula. A world class boutique retreat, Saffire compares with the finest five star experiences anywhere in the world, but is without peer in Tasmania and possibly even Australia. The only comparisons are qualia on Hamilton Island, Southern Ocean Lodge on Kangaroo Island and Emirates Wolgan Valley.
Saffire has set itself firmly within an exclusive club – those sanctuaries that put guests firmly in touch with the beauty and depth of nature while ensconcing them in luxury to generate an authentic, enriching, rejuvenating and uplifting experience.
The resort takes its inspiration from the Freycinet sapphire, the precious blue stones, which are found scattered amongst the pink-hued granite of the fiery Hazards peaks at which the resort looks.
Distinct in its design, exclusive in its features and set apart by its approach to tailored, one-on-one experiences and service, Saffire's approach is not constrained by traditional five-star ratings and standards, but sets a bold new direction for holidays and accommodation in Australia.
Young "groovy"General Manager Matt Casey ("he of the spiked hairdo"), was formerly GM at the Henry Jones Art Hotel, which is also now part of the Pure Tasmania portfolio. He is part of a young, visionary team that includes Richard Crawford the original "creator" of the Henry Jones (more on that in a later post).
Casey says Saffire turns the idea of hospitality on it's head, changing the way people feel about taking time out, and about day-to-day living. "We're dedicated to providing quality, memorable service; unforgettable experiences; indulgent and self-selected dining options; inspiring accommodation spaces and an overall sense of wellbeing and relaxation", he says.
Saffire is boutique not only in its size, with just 20 accommodation suites, but in its approach to making your well-deserved break the memory of a lifetime.
Designed by award-winning Tasmanian architects Morris Nunn and Associates (who also designed the Henry Jones), the buildings are conceptually organic, reflecting the surrounding environment and evoking a connection to the sea, through references of waves, sea creatures, sand dunes and a flowing, organic form.
The design of Saffire is distinctly unique and recognisable, just like its location. The unmistakable peaked Hazards Mountains are framed in the main building's roof line, and the suites below present like waves peeling on the shores below.
Furnishings feature an eclectic mix of traditional and contemporary, with locally made timber pieces alongside mid-century classics such as chairs designed by Charles and Ray Eames and Herman Miller.
The lounge is the ultimate in "classic cool" – a sumptuous place to collect a book from the library or meet for a drink, and then sink into an eclectic mix of chic furniture from original 1950s designers and manufacturers.
"A nightcap over a board game by the five-metre fireplace is the perfect way to wind down and on balmier nights, you may wish to retire to the courtyard to watch a breathtaking Freycinet sunset," says Casey.
The suites are designed to relax and rejuvenate, indulge in reading and lazing the days away, and to find connection with the environment to heal and restore balance.
Saffire's restaurant, Palate, prides itself on showcasing the best home-grown Tasmanian produce, locally sourced where possible, and on providing tailor-made experiences to suit each guest, including dining on demand from early morning to late evening.
Multi-course degustation menus matched with the outstanding local wines are a speciality, with menus designed around what is fresh out of the water or the paddock on any given day. If you prefer you can consult the chef for a masterful interpretation of your favourite dish made from the finest local ingredients, or choose from the à la carte menu.
Furnished with a contemporary, eclectic mix of designer furniture, Palate seats up to 40 guests over two tiers of seating, allowing each diner to take in the spectacular panoramic view of the bay and the Hazards, while enjoying au guéridon (at table) cooking and silver service with panache. Head chef Hugh Whitehouse was formerly of Darley's at Lilianfels in the Blue Mountains, which he took to a "two hat" level, resulting in it being named "Best Regional Restaurant of the Year" by the Sydney Morning Herald Good Food Guide.
http://www.saffire-freycinet.com.au
http://www.puretasmania.com.au