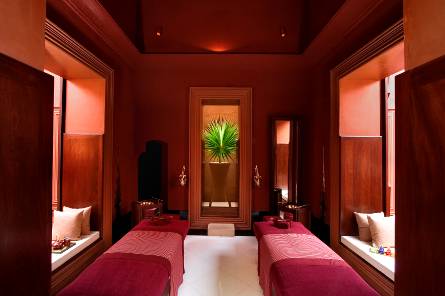 Spas are all the rage. It seems every hotel and resort now has one, but a destination spa is one you go to specifically because of the treatments it offers, not because of where it is or the sights to see around it.
You pick this hotel or resort because of the spa – this is a spa where you stay for a complete holiday to get your body and soul rejuvenated. The spa is the destination in itself.
Thailand has some of the best destination spas in the world. One of the first was Chiva Som. Not too far from Chiva Som is the Barai, one of the most stunning spas you'll see anywhere.
The Barai Residential Spa is located at Hua Hin the former royal holiday resort on the coast south of Bangkok where a number of Thailands' top spas and newest resorts have sprung up including Chiva Som. The Barai is, quite simply, one of the most beautiful and awe-inspiring spas you are ever likely to lay eyes on. It is located within the grounds of the Hyatt Regency Hua Hin and forms part of the Hyatt Pure Sanitas per Aquus range, forming what is effectively a central temple complex. This temple is dedicated to the worship of your body.
The Barai provides an oasis of serenity over 4.5 acres of land. With a sublime maze of pools, 18 chamber-style treatment rooms and dimly lit corridors doused in ochre red, The Barai pays homage to the Khmer temples of Angkor, but with hints of a Japanese garden or an Arabian harem.
It features eight spa suites with a private plunge pools for treatments and overnight stays and a tranquillity court and pool for relaxation, yoga and meditation sessions. Designed by the renowned Thai architect and interior designer, Lek Bunnag, THE BARAI is inspired by the Khmer cultural heritage. The deep ochre red architecture and interior design of THE BARAI represents the glory of the Khmer style of art, combined with the heritage of other art styles from this region. This is reflected not only in the grandeur of the main facilities and in each of the treatment rooms, but also in all aspects of THE BARAI experience. As you journey through the inner sanctums of THE BARAI, an almost quasi-religious experience in itself, the architecture and design based on themes of earth fire air and water invite you to experience these elements in different ways. This spa raises the bar in spa design. Prepare to be blown away!
THE BARAI SPA is a journey of body, mind and spirit, offering luxury residential spa accommodation, extensive spa treatments, signature massages, yoga sessions, fitness and lifestyle programmes. The spa was designed as a journey of the mind, body and spirit, with architecture as the guide. The goal of this journey is a delightful feeling of peace and tranquillity deep within the inner self.
Watch the videos:
www.youtube.com/watch?v=ptye24Dvpb4
www.youtube.com/watch?v=E6A2x_2WvpI