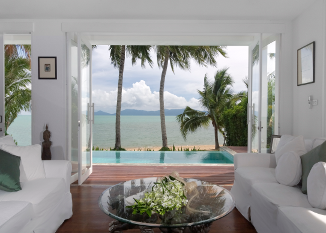 HOTEL REVIEW
Leslie Macpherson's glamorous parents were regulars at Raffles Singapore, even living at the hotel as a newly married couple during the 50s. Her British-born father, Bill Bloggs, moved to Southeast Asia in the 20s as director of Gestetner SE Asia. His job involved frequent trips to Singapore both before and after the Second World War.
"He would always stay at Raffles, each visit for weeks at a time," says Macpherson, who now splits her time between Sydney, Australia, and Koh Samui, Thailand, where the McPhersons own the boutique property, Villa M. "People say my father looked like Don Draper in Mad Men," Macpherson says.
Villa M (for Macpherson) is a gracious white Raffles-style private beach villa set in the heart of the Fisherman's Village, Bophut, on the north coast of Koh Samui, Thailand. It stands out as the only absolute beachfront residence in Fisherman's Village, one of the few remaining villages in Asia that still exudes a special Indochine charm, with hawkers stalls and traditional wooden Chinese shop houses, many which have been converted into chic boutiques and restaurants.
This tiny peaceful enclave is a world apart from the rest of Koh Samui, which is noisy, over-touristy and, in some parts, over-developed.
An exclusive beachfront residence that epitomizes boutique luxury and personalized service, Villa M has five bedrooms and sleeps 8-10. It has its own private beach, you get your own personal housemaid (and cook if you want it) – but above all the feeling is that your staying in your own island home.
In this respect Villa M stands apart, and it's the perfect vacation rental for friends, families or couples to share, each floor providing space and privacy when required, whilst also allowing for guests to relax & enjoy their time together.
It's a bit like having your own beach villa, say at Palm Beach or in the Hamptons, except that right outside your door is a small remnant of Indochine and then, when you step outside Fishermans Village, all the dining, shopping activity and night life of Samui awaits.
The villa's enviable location on the Gulf of Siam, the elegant colonial inspired design and eclectic furnishings that include collector items from all over Asia, make Villa M one of a kind and a great vacation rental option for friends, families or couples who want something more personal intimate and memorable than a hotel or resort.
The Macphersons were inspired by memories of the colonial homes they remember growing up as children. That and cherished stays at the Oriental Bangkok, the Strand in Yangon and the Raffles in Singapore. Like Leslie, Neil McPherson had been brought up in Singapore in the 50s and 60s.
"Raffles was the centre of our families' social lives so it's understandably etched on our collective memories," says Macpherson.
They both love the colonial, airy architecture of the property and have taken inspiration from it for their own hotel, which has white plantation shutters, recycled antique teak floors and Asian antiques: "We wanted it to be reminiscent of Raffles and Singapore the way we knew it."
MacPherson says, "Our mission is to consistently provide you with service that is inspirational and truly individual, a travel experience  that is authentic and memorable. Whether you are here to explore this magical tropical island's cultural and natural attractions, for a romantic getaway, honeymoon, intimate wedding celebration, or simply to indulge yourself in an exclusive beachfront residence, boutique luxury is assured and personalized service unsurpassed. We warmly welcome you to your island home in the Gulf of Siam."
Take a look at the video we've posted here on the website or visit the resort's photo gallery here: www.villamsamui.com